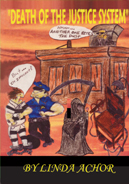 TO PURCHASE THE BOOK, PLEASE CALL LINDA ACHOR AT (630) 963-3426.

ABOUT THE BOOK:
Author of Death of the Justice System, LINDA ACHOR, has written a fact filled book, backed by court documented evidence proving how the courts engage in fraud on the court to cheat innocent unsuspecting GOD fearing tax-payers out of their Constitutional rights to due process under the law.

She has organized a group called P.A.C.C 19, which stands for PEOPLE AGAINST COURT CORRUPTION. Linda Achor's book contains court documented evidence proving the fraud that is taking place in courtrooms across America. Whether it be in criminal- where someone's life is hanging in the balance; or a civil case- where property and civil rights hang in the balance. Her book proves that the courts are breaking our Constitutional laws BLATANTLY!

Preview of book:
Eugene Wzorek, a former City of Chicago truck driver and the only person to ever win a Shakman decree case against the City of Chicago has documented proof that a supervisor of Federal District court reporters, the City of Chicago and its attorneys willfully engaged in a scheme of altering the record of lower court proceedings, which caused a false and misrepresented record of proceedings to be filed and presented before the Appeals court. In spite of all of the evidence; the United States Department of Justice, the State of Illinois Judicial Inquiry Board, the FBI, the House of Representatives, various organizations, institutions, and even talk show hosts have either ignored him or have turned him down in his quest to expose the corruption.

A PERFECT RICO CRIME...
with conspirators leading all the way to the Supreme Court. This is the evidence has been sent to Dan Burton (House Government- Reform and Oversight Committee), John Ashcroft, Henry Hyde,
and many others in an attempt to get justice. And what is their way of doing what is required by law for them to do? They simply ignore you. They give you some double talk, telling you that your evidence is insufficient. We can guarantee that there is enough evidence; so much, an investigator is not required to prove this case.
Since they are all in cahoots together in this fraud, they make it virtually impossible for the average citizen to reach the masses and expose this scandal. This game which they are playing: keeping trial tapes from people; altering and forging court documents in order to cheat the citizens of the United States. We intend to bring the corrupt judges, crooked lawyers, court reporters and other court personnel to justice.